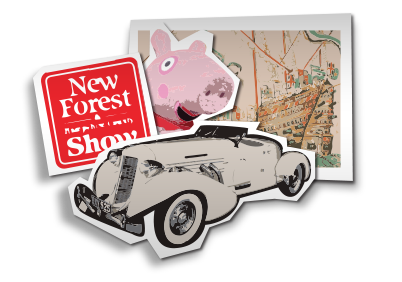 New Forest Cider
Cidermaking was part of the New Forest Commoner's way of life on their holdings for generations, and at Littlemead, Burley, this old-fashioned craft of cidermaking has been revived.

Pressing at New Forest Cider
Using New Forest Cider's own local orchard apples, together with fruit gathered from traditional cider orchards, fruit is pressed during October, November and December when the different varieties become ripe. After fermentation, the cider is blended into freshly emptied whisky barrels to enhance the flavour. You can taste and buy draught cider from the barrels in the cowshed.
Whats the Cider made from?
Unlike the usual carbonated, pasteurised pub and supermarket varieties which are bulk produced predominantly from apple concentrate and water, New Forest cider is made from pure fermented apple juice.
Come and see the animals and crafts
As a working small-holding, there are often some animals for the children to see, and locally-made preserves and crafts are for sale in the shop.
More Information
For more information about New Forest Cider please see www.newforestcider.co.uk or telephone 01425 403589.
New Forest Cider, Littlemead, Pound Lane, Burley, Ringwood, Hampshire. BH24 4ED