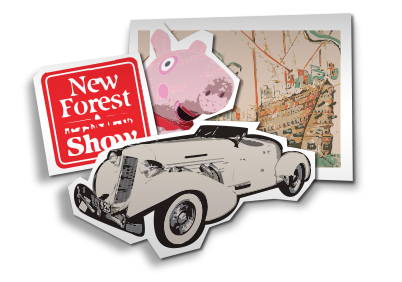 New Forest Events
If your New Forest business or organisation has a forthcoming event that you'd like to promote (free of charge), please drop us a line and we'll put it on this page.

Add Your Event
If you have a forthcoming village event that you'd like to publicise free of charge, please submit the details to our Events section.
► Promote Event
Add Your Business
Add your New Forest-based business to the New Forest Online Business Directory - free of charge.
► Add My Business
Forthcoming New Forest Events
The forthcoming New Forest events below are listed in starting date order - the closer they are to beginning, the higher up the page they appear. Once the events have finished, they automatically disappear from the page. If you have a New Forest event that you would like to publicise, please submit it here. Alternatively, you can e-mail it to us.
▼ Date
▼ Event
Saturday
21/06/2014
to Saturday
20/12/2014
Ref. 2047
ART, DESIGN, ANTIQUES, and VINTAGE STREET MARKET - New Milton
A street market of stalls with an eclectic mix of art and design direct from the artists and makers, together with stalls selling textiles, vintage, retro and shabby chic. An interesting day out where you can view original art at affordable prices, and browse the antiques for a bargain. The market is in Station Road New Milton on every third Saturday of each month from June to December.
The market starts at 10.00am and ends at 4.00pm
Location: The market is set up in Station Road New Milton on the 3rd Saturday of each month
Mandy
Tel: 07585 123 583
art&antiques@smtmanagementltd.co.uk
www.smtmanagementltd.co.uk
Saturday
25/10/2014
to Sunday
02/11/2014
Ref. 2073
Half-Term Hauntings - Beaulieu
There are strange goings-on at Beaulieu this half term, with spooky activities for all the family to enjoy. Take a ride on the moan-a-rail, shiver at spooky stories, have your face painted, and brave the Halloween quiz trail. Plus half price entry for all children in Halloween costume! (See website for terms).
See website for details
10am - 5pm
Location: Beaulieu National Motor Museum
Beaulieu
Tel: 01590 612345
info@beaulieu.co.uk
www.beaulieu.co.uk/beaulieu-events
Friday
31/10/2014

Ref. 2042
It's Frightfully Fun at the Farm - Lyndhurst
A day of spooky stuff to see and do, including pumpkin carving (small extra charge) and paper bat making. Every child that arrives at the Farm in spooky fancy dress will be allowed entry at a special concessionary rate of £4.50 each (cannot be used in conjunction with any other offer). Meet and hold a barn owl and see lots of creeeepy creatures like rats, snakes, cockroaches and huge snails, courtesy of our friends from The Creature Teachers.
Usual admissions apply
10:00 - 17:00
Location: Longdown Activity Farm
Longdown Activity Farm
Tel: 023 8029 2837
enquiries@longdownfarm.co.uk
www.longdownfarm.co.uk
Sunday
02/11/2014

Ref. 2061
VARIETY REMEMBRANCE 2014 - Ringwood
Variety Remembrance 2014 is a Variety show followed by remembrance concert. SALUTE TO CENTENARY OF WW1, remembrance of WW 2 and SALUTE TO MALTA FOR AWARD OF GC. FLAGS OF ALL COUNTRIES THAT SERVED IN WW 1 WILL BE BROUGHT INTO AUDITORIUM BY YOUTH ORGANISATIONS. SALUTE TO UNKNOWN WARRIOR. Extinguish of candle in remembrance of AUGUST 4TH 1914. Choruses of LAND OF HOPE AND GLORY AND RULE BRITANNIA. IN AID OF HELP FOR HEROES
ADULT. £12 under 16. £6
2.15 until 5.30pm
Location: VERWOOD HUB, VERWOOD DORSET
warren brown
Tel: 0774 767 2100
warrenbrown27@hotmail..com
Sunday
02/11/2014

Ref. 2034
variety remembrance 2014 - Ringwood
Salute to world war one, and world war two and salute to the bravery of the people's of Malta.special songs and readings. Two shows in one...VARIET SHOW AND REMEMBRANCE CONCERT. guest celebrity MICHAEL MEDWIN. Amazing Grace, pie jesu, the Lord's prayer and battle of Britain speecl
tba
2-6pm
Location: the hub theatre, VERWOOD
warren brown
Tel: 0774 767 2100
warrenbrown27@hotmail.com
Friday
07/11/2014

Ref. 2072
Paranormal Investigations at Beaulieu Abbey - Beaulieu
Join the Hampshire Ghost Club for a paranormal investigation at the historic 13th century Beaulieu Abbey, the site of many spooky sightings. Activities include vigils and investigations using professional equipment. Tickets available for purchase until midday on Friday 31 October. Age 18+ only.
See website for details
9pm - 1am
Location: Beaulieu National Motor Museum
Beaulieu
Tel: 01590 612345
info@beaulieu.co.uk
www.beaulieu.co.uk/beaulieu-events
Saturday
08/11/2014

Ref. 2064
Winter Bazaar - Lymington
Village event selling beautiful art, crafts, interiors, jewellery, cakes, jams and other lovely stuff for christmas.
11am-4pm
Location: Boldre Memorial Hall, Pilley
Judy Uren
Tel: 01590 676632
judyuren@hotmail.com
Saturday
29/11/2014

Ref. 2068
The Gatsby Gala featuring The FB Pocket Orchestra - Brockenhurst
We will be hosting the first of our annual Gala which will be the perfect choice for your festive celebration. The Hall will be transformed into a glittering array of elegance for you to indulge. You will start the evening with a sparkling reception followed by a delicious and sumptuous 3 course meal. There will be live music by the popular FB Pocket Orchestra with room to dance the night away, a licensed bar and loads of raffle prizes as part of our fundraising goals for the Hall. Tickets for this event are limited and are available at £35 from the Village Hall, the Sweet Shop in Brookley Road or online at www.brockenhurstvillage.org.uk so don't delay in getting yours!
£35
7pm - Midnight
Location: Brockenhurst Village Hall
JJ Ferguson
Tel: 01590 622580
events@brockenhurstvillage.org.uk
www.brockenhurstvillage.org.uk
Saturday
29/11/2014

Ref. 2063
Christmas Table Top Sale - Fordingbridge
Christmas Table Top Sale in the Town Hall in Fordingbridge. Starts 10am - 12 noon. A selection of stalls and raffle and cakes.
Entry Fee 35 pence
10am - 12 noon
Location: Town Hall Fordingbridge
Animals' Voice
Tel: 01425 653663
enquiries@animalsvoice.org.uk
Tuesday
02/12/2014
to Thursday
04/12/2014
Ref. 2055
Future iGaming - Sway
Future iGaming provides a fresh look at the future of gambling. This exclusive meeting provides a practical, strategic and content-driven event offering you the opportunity to discuss innovations in the iGaming industry,gambling marketing and factors influencing customer betting behaviour. Taking place from 2nd December – 4th December 2014 in London, Future iGaming is the only iGaming Conference that provides you with real take home messages, practical industry insight and a platform to have real peer-to-peer discussions and debates to drive the industry forward. Request the draft agenda for more information on gambling industry trends: Visit: http://igaming.wbresearch.com/ Contact us at: igaming@wbr.co.uk
Free

Location: America Square Conference Centre, 17 Crosswall, London EC3N 2LB UK
wbremailwbr
Tel: 20 7368 9465
igaming@wbr.co.uk
http://igaming.wbresearch.com/
▲ Date
▲ Event