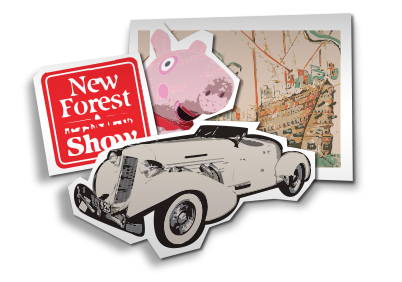 New Forest Events
If your New Forest business or organisation has a forthcoming event that you'd like to promote (free of charge), please drop us a line and we'll put it on this page.

Add Your Event
If you have a forthcoming village event that you'd like to publicise free of charge, please submit the details to our Events section.
► Promote Event
Add Your Business
Add your New Forest-based business to the New Forest Online Business Directory - free of charge.
► Add My Business
Forthcoming New Forest Events
The forthcoming New Forest events below are listed in starting date order - the closer they are to beginning, the higher up the page they appear. Once the events have finished, they automatically disappear from the page. If you have a New Forest event that you would like to publicise, please submit it here. Alternatively, you can e-mail it to us.
▼ Date
▼ Event
Friday
28/04/2017

Ref. 2374
Eleanor Conway's Walk of Shame - Totton
What is life without something that makes you feel good? Ferocious clubber and party girl Eleanor Conway has always been a woman of extremes; she partied around the world as a music journalist, ran off to Asia to work for the triads, made hardcore porn and Tinder'd her way through most of London… Now sober from alcohol and substances she's failing to find moderation and meaning. A standup debut about sex, sobriety and Sambuca and the modern addict that lies within us all.
£10
8pm start
Location: Hanger Farm Arts Centre West Totton SO40 8FT
sharon moore
Tel: 02380 667683
hangerfarm@totton.ac.uk
https://www.hangerfarm.co.uk/events
Saturday
29/04/2017

Ref. 2375
Jaywalkers - Totton
Since reaching the finals of the BBC Young Folk Awards in 2008, Jaywalkers have cemented their place as one of the most exciting, virtuosic and entertaining young bands working on the British Folk scene. Effortlessly creating a unique sound based on their collective and individual musical backgrounds, the band takes influence from Folk, Bluegrass, Country and Western Swing music in the form of virtuosic instrumentals, three part harmony and impressive slap bass. Add good humour, tasteful arrangements and exceptional musicianship to the mix and they are guaranteed to put a smile on your face.
£12/£10 conc
8pm start
Location: Hanger Farm Arts Centre West Totton SO40 8FT
sharon moore
Tel: 02380 667683
hangerfarm@totton.ac.uk
https://www.hangerfarm.co.uk/events
Saturday
29/04/2017

Ref. 2378
Bluegrass and Folk, Jaywalkers - Totton
The exciting, young trio JAYWALKERS will be coming to the Hanger Farm Arts Centre on Saturday 29th April. These former BBC Young Folk Award finalists are touring their fourth studio release - Songs We Like (EP) - which follows on from the release in 2015 of their third studio album - Weave - which was met with great acclaim, expanded their musical horizons and established the band as one of the best bands working on the British Folk Scene. Together they effortlessly fuse elements of Folk, Bluegrass, and Old-Time and the music Jaywalkers create is innovative, rooted deeply in tradition, and exhilarating. This will be the second visit by the band to the Hanger Farm. Their first visit two years ago was a fantastic evening and their return on the 29th April promises to be even more entertaining, foot stomping and is not to be missed! Their new EP - "Songs We Like" features a collection of 5 tracks that the band did not write. Their previous album - Weave - is now almost a year and a half old and rather than release a full album, the band wanted to release an E.P of non-original music. The idea behind this is to hopefully give an insight into some of the songs and artists that have inspired them throughout their lives as well as demonstrate how they put their own unique blend of Folk and Bluegrass to the songs they like. The covers chosen range from the song "Tainted Love", made famous by Soft Cell in '81, to a striking traditional murder ballad called "Delia", which was brought to popular attention by Johnny Cash.
£12/£10(Conc.)
19:30-23:00
Location: Hangar Farm Arts Centre, Allman Lane, Totton, SO40 8FT
Hangar Farm Arts Centre
Tel: 023 8066 7274
hangerfarm@totton.ac.uk
https://www.hangerfarm.co.uk/
Tuesday
16/05/2017

Ref. 2377
Charity Quiz - Totton
Tools For Self Reliance are hosting a quiz on Tuesday 16th May to raise money for vocational projects in Africa. These projects are vital in helping people set up their own business and supporting their families. Tickets cost £10 including food, and a raffle and a cash bar will be available.
£10
From 7pm - 10pm
Location: Colbury Memorial Hall
Tools For Self Reliance
Tel: 02380869697
nuisha@tfsr.org
www.tfsr.org
Sunday
11/06/2017

Ref. 2361
The Sway Open Gardens and Craft Fair 2017 - Sway
The Sway Open Gardens and Craft Fair 2017 is an event that runs every other year in the village of Sway, in the New Forest. 20 villagers open their beautiful gardens to the public, who come from Dorchester to Portsmouth and all places in between. This year we are also having a Craft Fair to compliment the Open Gardens event. The majority of the proceeds go to the Oakhaven Hospice, but some organisations within the village also benefit. * The events starts at 11.00am until 5.00pm * Craft Fair held in Sports Pavilion * Raffle * Renown well stocked plant stall * Tea, coffee and homemade cakes available all day * Light lunches served * Free Mini bus available to transport visitors to more outlaying gardens * Tickets prices £6.50 in advance/£7.50 on the day
£6.50 in advance, £7.50 on the day. children free
110.00 am to 5.00pm
Location: Village Centre, Station Road, Sway
Jenni Oakhill
Tel: 10590 682000
jenni@insway.net
Sunday
18/06/2017

Ref. 2340
New Forest Bike Ride - Brockenhurst
A beautiful ride through the New Forest, helping to raise vital funds for CoppaFeel - on a mission to promote early detection of breast cancer. There's a choice of four routes, all starting and finishing in Brockenhurst. The three longer routes cross a landscape of open vistas and autumnal woodlands while quiet roads and gentle hills make the shorter rides ideal for families. Family-friendly Route - 15 miles - following forest tracks so nearly all traffic-free. NOT suitable for racing bikes!
Adult Entry Pack (30, 45, 60 miles) (£18.50) Children's Entry (16 & under) (£5.00) Student Entry (£12.50) Team Entry (Enter total no. required. Price per person) (£18.00) Adult Entry (15 mile) (£9.50) Kid's Entry (15 mile) (£3.50)
60, 45 and 30 mile cyclists: 8:00am - 10:00am at a time to suit you! (15 mile family route: anytime between 9.30am - 10.15am)
Location: Brockenhurst 6th Form College
Eleanor Williams
Tel: 0117 9897080
ellie@bike-events.co.uk
http://bike-events.co.uk/
▲ Date
▲ Event