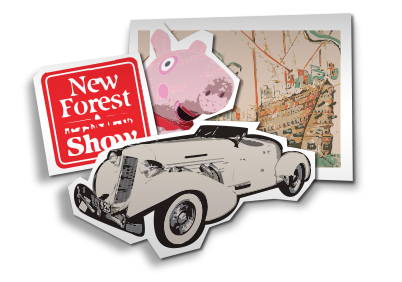 New Forest Events
If your New Forest business or organisation has a forthcoming event that you'd like to promote (free of charge), please drop us a line and we'll put it on this page.

Add Your Event
If you have a forthcoming village event that you'd like to publicise free of charge, please submit the details to our Events section.
► Promote Event
Add Your Business
Add your New Forest-based business to the New Forest Online Business Directory - free of charge.
► Add My Business
Forthcoming New Forest Events
The forthcoming New Forest events below are listed in starting date order - the closer they are to beginning, the higher up the page they appear. Once the events have finished, they automatically disappear from the page. If you have a New Forest event that you would like to publicise, please submit it here. Alternatively, you can e-mail it to us.
▼ Date
▼ Event
Saturday
27/05/2017
to Sunday
04/06/2017
Ref. 2385
Time Travellers! Half Term Activities - Beaulieu
Join us for loads of time travel themed activities this May half term 27 May – 4 June. Transport yourself back to the middle ages and meet Brother Peter in the Beaulieu Abbey, you can even dress as a monk and learn to write with a quill! It's a great opportunity to witness amazing medieval traditions with the archery and falconry demonstrations. Discover what life was like in the 1800's and meet the cook in the recently restored Palace House Victorian Kitchen. Travel through time as you come face to face with genuine vehicles from each decade in The National Motor Museum before glimpsing into the future in as you design a futuristic car. All of these time travel inspired activities are included in your general admission ticket, which includes The National Motor Museum, Beaulieu Abbey, Palace House and World of Top Gear.
Extra activities included in admission price
10am - 6pm
Location: Beaulieu, New Forest
Beaulieu
Tel: 01590612345
info@beaulieu.co.uk
https://www.beaulieu.co.uk/events/may-half-term/
Monday
29/05/2017

Ref. 2384
The Beaulieu 999 Show - Beaulieu
Join us this May bank holiday to celebrate Mary Montagu-Scott's appointment as the 'High Sherriff of Hampshire'. This event will demonstrate the fantastic work of the emergency services with police, fire & rescue, ambulance, judiciary, coastguard, National Health Service (NHS), prison and probation services joining us for the day. Enjoy demonstrations and displays from all parts of the emergency services including a vehicle extrication, dog displays and CSI Beaulieu in Palace House. Your ticket includes entry to the Beaulieu attraction, including the National Motor Museum, Palace House, Beaulieu Abbey and World of Top Gear.
See website for details
10am opening, 5pm closing
Location: National Motor Museum, Beaulieu, SO42 7ZN
Beaulieu Events
Tel: 01590 612345
events@beaulieu.co.uk
https://www.beaulieu.co.uk/events/
Sunday
04/06/2017

Ref. 2387
Family Fun Fete - Burley
This fete is part of our Walk For Hope for National Cancer Survivors Day raising awareness and money for local charity Wessex Cancer Trust.
Free of charge
11.30am - 7.00pm
Location: Burley Park, Burley, BH24 4AB
Dawn Ingram
Tel: 023 80672200
dawn.ingram@wessexcancer.org.uk
www.wessexcancer.org.uk
Sunday
11/06/2017

Ref. 2361
The Sway Open Gardens and Craft Fair 2017 - Sway
The Sway Open Gardens and Craft Fair 2017 is an event that runs every other year in the village of Sway, in the New Forest. 20 villagers open their beautiful gardens to the public, who come from Dorchester to Portsmouth and all places in between. This year we are also having a Craft Fair to compliment the Open Gardens event. The majority of the proceeds go to the Oakhaven Hospice, but some organisations within the village also benefit. * The events starts at 11.00am until 5.00pm * Craft Fair held in Sports Pavilion * Raffle * Renown well stocked plant stall * Tea, coffee and homemade cakes available all day * Light lunches served * Free Mini bus available to transport visitors to more outlaying gardens * Tickets prices £6.50 in advance/£7.50 on the day
£6.50 in advance, £7.50 on the day. children free
110.00 am to 5.00pm
Location: Village Centre, Station Road, Sway
Jenni Oakhill
Tel: 10590 682000
jenni@insway.net
Sunday
18/06/2017

Ref. 2340
New Forest Bike Ride - Brockenhurst
A beautiful ride through the New Forest, helping to raise vital funds for CoppaFeel - on a mission to promote early detection of breast cancer. There's a choice of four routes, all starting and finishing in Brockenhurst. The three longer routes cross a landscape of open vistas and autumnal woodlands while quiet roads and gentle hills make the shorter rides ideal for families. Family-friendly Route - 15 miles - following forest tracks so nearly all traffic-free. NOT suitable for racing bikes!
Adult Entry Pack (30, 45, 60 miles) (£18.50) Children's Entry (16 & under) (£5.00) Student Entry (£12.50) Team Entry (Enter total no. required. Price per person) (£18.00) Adult Entry (15 mile) (£9.50) Kid's Entry (15 mile) (£3.50)
60, 45 and 30 mile cyclists: 8:00am - 10:00am at a time to suit you! (15 mile family route: anytime between 9.30am - 10.15am)
Location: Brockenhurst 6th Form College
Eleanor Williams
Tel: 0117 9897080
ellie@bike-events.co.uk
http://bike-events.co.uk/
Saturday
01/07/2017

Ref. 2386
Lover Country Fayre - Other
Fun Family Dog Show, Dancing displays, Craft Stalls, Mini-farm, Scalextric Racing, Jumparoo Assault Course, Side-Shows, Tombola, Classic Cars, Steam Engines, Afternoon Teas, BBQ, Beer and Pimms, Homemade cakes and jams and loads more.
12:00 to 16:30
Location: Lover Green, School Road, Lover, SP5 2PL
Paul Bromage
Tel: 01725 510753
paulbromage@hotmail.co.uk
www.lovercountryfayre.com
▲ Date
▲ Event