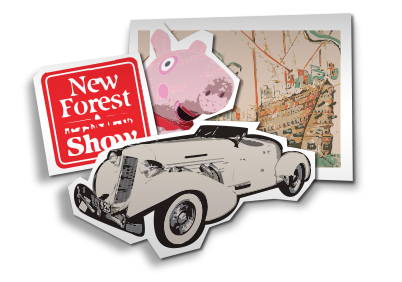 New Forest Events
If your New Forest business or organisation has a forthcoming event that you'd like to promote (free of charge), please drop us a line and we'll put it on this page.

Add Your Event
If you have a forthcoming village event that you'd like to publicise free of charge, please submit the details to our Events section.
► Promote Event
Add Your Business
Add your New Forest-based business to the New Forest Online Business Directory - free of charge.
► Add My Business
Forthcoming New Forest Events
The forthcoming New Forest events below are listed in starting date order - the closer they are to beginning, the higher up the page they appear. Once the events have finished, they automatically disappear from the page. If you have a New Forest event that you would like to publicise, please submit it here. Alternatively, you can e-mail it to us.
▼ Date
▼ Event
Saturday
15/08/2015
to Monday
31/08/2015
Ref. 2130
Saturday
29/08/2015

Ref. 2132
It's Magic at the Farm - Lyndhurst
Join us at Longdown Activity Farm on 8th and 29th August and enjoy lots of madcap humour and magical mayhem with one of the UK's top family entertainers Silly Scott. During the day Silly Scott will be performing two completely different award-winning family magic shows jam-packed full of comedy magic with guaranteed belly laughs for the whole family. Silly Scott will also be balloon-twisting between his shows, and can make some fantastic creations! As well as magical entertainment from Silly Scott, we have our usual full schedule of daily hands-on animal activities such as bottle-feeding goat kids and the small animal encounter where you can hold baby animals such as chicks and bunnies. There are lots of fabulous indoor and outdoor play areas at Longdown Activity Farm, so whatever the weather there's always something to do. Children's favourites, pony riding* and the bumpy tractor ride (ground conditions permitting) will continue to run throughout the two days Silly Scott is with us, as well as throughout the school holidays. So, for a magical, fun-filled day at the Farm, visit Longdown Activity Farm on 8th and 29th August. There is no extra charge for Silly Scott's shows. Longdown Activity Farm and Longdown Farm Shop are open daily throughout the summer holidays. *Extra charge for pony riding. Under 7s only
Usual admissions apply
10:00 to 17:00
Location: SO40 7EH
Longdown Activity Farm
Tel: 02380292837
publicity@longdownfarm.co.uk
www.longdownfarm.co.uk
Sunday
06/09/2015

Ref. 2117
Smoked and Uncut Festival - Brockenhurst
Spend a Sunday afternoon in the sunshine with live music being performed by: Andy Burrows, Movie and Polly Money. All at THE PIG in the New Forest.
£30 General Admission, £100 Family Admission.
12 - 6pm
Location: THE PIG
THE PIG
Tel: 01761 490490
http://www.smokedanduncut.com/
Sunday
13/09/2015

Ref. 2083
New Forest bike ride - Brockenhurst
A beautiful ride through the New Forest, helping to raise money for Orchid – Fighting Male Cancer. There's a choice of four routes for all ages and abilities, all starting and finishing in Brockenhurst. Quiet roads and gentle hills make the shorter rides ideal for families.
see website
8am - 5pm
Location: Brockenhurst Sixth Form College
http://www.bike-events.co.uk/newforest
Friday
18/09/2015

Ref. 2135
Hyde Charity Pamper Evening - Fordingbridge
Join us for an evening of crafts, beauty treatments and relaxation on Friday 18 September, 7pm Pamper yourself from head to toe with bite-size beauty treatments and therapies, all included in your ticket price. Stylist Anita Marsh from House of Colour talks you through finding the perfect outfit in the perfect colours. Treat yourself to a manicure, or paint your own nails at our nail bar. Cure your aches and pains with Reflexologist Paula Bancroft. Experience wonderful crystal healing sessions with Sommer Theobald. Try hands-on healing Reiki sessions with Nikki. Create unique pieces of jewellery with Ruth from The Make Arcade. Decorate your own cupcake and take it home with you. Have your portrait taken by local photographer Tim Browne and get it emailed to you for free! Enter our raffle for the chance to win great prizes (small charge applies) As if all this wasn't enough we will also have local art and crafts on sale. Keep your eye on the website for updates as more beauticians, therapists and stallholders confirm. Date: Friday 18 September Time: 7pm Location: Hyde Church Centre, Church of Holy Ascension, Hyde, SP6 2QJ Entry: £6 - guarantee your place in advance by booking via the website, or purchasing a ticket from Hyde Preschool or Fordingbridge Tourist Information Centre. Some tickets may be available on the door.
£6
7pm - 9.30pm
Location: Hyde Pre-school, Church of Holy Ascension, Hyde, SP6 2QJ
Emily Browne
Tel: 07909777784
charityfundhyde@gmail.com
www.cargo.com/hydefundraiser
Sunday
27/09/2015

Ref. 2133
Scavenger Hunt in the New Forest - Hythe
On Sunday 27th September 2015, Wessex Cancer Trust are holding a Scavenger Hunt around the New Forest. Starting at Waterside Cancer Support Centre in Hythe at 10 am, come along with your car and friends and follow the clues around the New Forest until you reach The Mayflower Bar & Restaurant in Lymington. £40 per car, and exciting prizes to be won! How many will you find…?
£40 per car
10am - 2.30pm
Location: Hythe, Lymington and surrounding areas
Rachel Rawlings
Tel: 023 8067 2200
rachel.rawlings@wessexcancer.org.uk
http://wessexcancer.org.uk/events/scavenger-hunt/
Saturday
03/10/2015
to Sunday
04/10/2015
Ref. 2121
Cranborne Chase Woodfair - Fordingbridge
The Cranborne Chase Woodfair is the largest regional woodfair - a showcase celebrating woodlands and traditional rural life. Come and taste local food, have a go at a craft or activity you've never tried, learn something utterly unexpected and wonderful - this year's woodfair is even more inclusive and provides even more opportunities for people of all ages and backgrounds to have a go at something new. We've everything from mobile sawmills to bronze age woodworking, falconry to furniture makers, timber frames to wood turning. Discover a treasure trove of local products from food and furniture to toys and games. If you're looking for a fantastic day out for all the family, then this is it.
Adult £10, Child £2, Family £22 (discounts for advance tickets)
10:00am - 5:00pm
Location: Breamore House Nr. Fordingbridge Hampshire SP6 2DF
David Blake
Tel: 01749 814088
woodfair@bradsons.co.uk
www.woodfair.org.uk
▲ Date
▲ Event