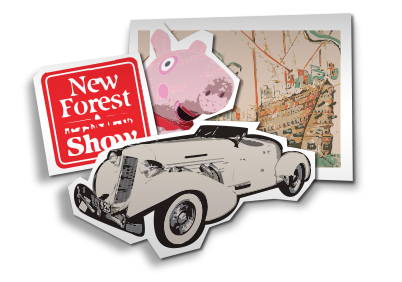 New Forest Events
If your New Forest business or organisation has a forthcoming event that you'd like to promote (free of charge), please drop us a line and we'll put it on this page.

Add Your Event
If you have a forthcoming village event that you'd like to publicise free of charge, please submit the details to our Events section.
► Promote Event
Add Your Business
Add your New Forest-based business to the New Forest Online Business Directory - free of charge.
► Add My Business
Forthcoming New Forest Events
The forthcoming New Forest events below are listed in starting date order - the closer they are to beginning, the higher up the page they appear. Once the events have finished, they automatically disappear from the page. If you have a New Forest event that you would like to publicise, please submit it here. Alternatively, you can e-mail it to us.
▼ Date
▼ Event
Thursday
26/01/2017

Ref. 2347
Glorious Game Dinner - Lyndhurst
As the end of the game season approaches, we're hosting our ever-popular Game Dinner, again! Join us for our unique culinary experience with a four course feast, sourced from our family estates both here in the New Forest & Scotland - bringing you a true taste of the countryside.
£30pp
19.30 - 23.00
Samantha Farrar
Tel: 02380 812214
marketing@bramshaw.co.uk
www.bellinn-newforest.co.uk
Friday
27/01/2017
to Saturday
04/02/2017
Ref. 2341
The One Hundred And One Dalmatians - Lyndhurst
Live family show of the much loved children's novel about the kidnapping and rescuing of 99 Dalmatian puppies...
£9 adult, £6 child
Friday 27 January (7.30), Saturday 28 January (6.00), Sunday 29 January (2.30), Friday 3 February (7.30) and Saturday 4 February (2.30).
Location: Vernon Theatre, Sandy Lane, Lyndhurst SO43 7DN
Lyndhurst Drama & Muscial Society
Tel: 02380292531
lyndhurstdrama@icloud.com
www.lyndhurstdrama.co.uk
Friday
27/01/2017

Ref. 2344
Andrew White - It Was Funnier In My Head - Fordingbridge
Fresh from a successful debut of his first one hour, one-man show, 'It Was Funnier in my Head', 17 year-old comedian Andrew White prepares to take his unique mix of comedy and poetry around the south. Andrew waxes lyrical on everything from passing out in PE to travelling in China, and everything else about his life as parent-dependent college student. Introduced and warmed-up by his own Dad! Doors Open from 6:45pm. Drinks and snacks on sale.
Free - Pay What You Want on the Way Out
7:30pm - 8:45pm
Location: Victoria Rooms, 26 Bridge Street, SP6 1AN
Andrew White
AWTickets@hotmail.com
www.Facebook.com/StandUpAW
Saturday
11/02/2017
to Sunday
26/02/2017
Ref. 2345
Hands-On Half-Term - Beaulieu
Get 'hands-on' at Beaulieu this February Half-Term with interactive activities for the whole family. Handle historic motoring objects and race your own balloon-powered car in the National Motor Museum. Become a medieval builder in Beaulieu Abbey and dress up as a Victorian in Palace House. Collect stamps at each 'hands-on' station to complete your pass book! Don't forget your ticket includes entry to the entire Beaulieu attraction, including Palace House, Beaulieu Abbey, World of Top Gear and the world-famous National Motor Museum.
Activities included in general admission ticket
10am - 5pm
Location: Beaulieu, National Motor Museum
Tel: 01590612345
visit@beaulieu.co.uk
www.beaulieu.co.uk/events
Saturday
11/02/2017
to Sunday
12/02/2017
Ref. 2346
Snowdrop Weekend - Fordingbridge
Come and see the wonderful display of snowdrops growing in the ancient churchyard of St.George in Damerham near Fording bridge. Inside the church will be various stalls and delicious homemade refreshments.Plus a warm welcome.
12noon until 4.00pm each day
Location: St. George's Church. Damerham. SP6 3HD
Tuesday
14/02/2017

Ref. 2348
Valentine's Day Dinner - Lyndhurst
Treat your sweetheart to an intimate dinner for two and fall 'Inn' love as we serve up a romantic three course dinner with a few extra touches, including a glass of Prosecco each to set off the proceedings!
£35pp
19.30 - 23.00
Location: The Bell Inn, Bramshaw
Samantha Farrar
Tel: 02380 812214
marketing@bramshaw.co.uk
www.bellinn-newforest.co.uk
Saturday
25/02/2017

Ref. 2349
St Marks Wedding Fayre - Lymington
Are you planning a Hampshire or Dorset wedding? Looking for a lovely village church for your ceremony? Looking for a hall to hire for your reception? Come along and discover a beautiful church, while meeting a wide range of wedding specialists all in one place? St Marks Church of Pennington, Lymington are hosting a wedding fayre on Saturday 25th February from 11am till 3pm. You'll find brilliant wedding professionals who are experts in their field waiting to help you make your special day perfect. The wedding fayre will be split between the Church itself and the Church Centre. Come and join us to find inspiration for your special day? The St Marks Church is on Ramley Road in Pennington (Lymington post code SO41 8GQ) and the Church Centre is just a couple of minutes' walk away.
Starts at 11am and finishes at 3pm
Location: St Marks Church, Ramley Road, Pennington, SO41 8GQ
St Marks Church
http://www.stmarks-pennington.org.uk/
Saturday
04/03/2017

Ref. 2343
Lymington Boat Jumble - Lymington
Lymington Boat Jumble is organised by 9th Lymington Sea Scout raising vital funds for the group. Now in its 5th year, items are sold on a commission basis. If you wish to sell any nautical items please contact infoboatjumble@gmail.com for further information. Full details at Boat Jumble terms and conditions | 9th Lymington Sea Scouts.
0930 - 1200
Location: Lymington
Mel or Sonia
Tel: 01590 674014
infoboatjumble@gmail.com
9thlymingtonseascouts.org
Sunday
18/06/2017

Ref. 2340
New Forest Bike Ride - Brockenhurst
A beautiful ride through the New Forest, helping to raise vital funds for CoppaFeel - on a mission to promote early detection of breast cancer. There's a choice of four routes, all starting and finishing in Brockenhurst. The three longer routes cross a landscape of open vistas and autumnal woodlands while quiet roads and gentle hills make the shorter rides ideal for families. Family-friendly Route - 15 miles - following forest tracks so nearly all traffic-free. NOT suitable for racing bikes!
Adult Entry Pack (30, 45, 60 miles) (£18.50) Children's Entry (16 & under) (£5.00) Student Entry (£12.50) Team Entry (Enter total no. required. Price per person) (£18.00) Adult Entry (15 mile) (£9.50) Kid's Entry (15 mile) (£3.50)
60, 45 and 30 mile cyclists: 8:00am - 10:00am at a time to suit you! (15 mile family route: anytime between 9.30am - 10.15am)
Location: Brockenhurst 6th Form College
Eleanor Williams
Tel: 0117 9897080
ellie@bike-events.co.uk
http://bike-events.co.uk/
▲ Date
▲ Event