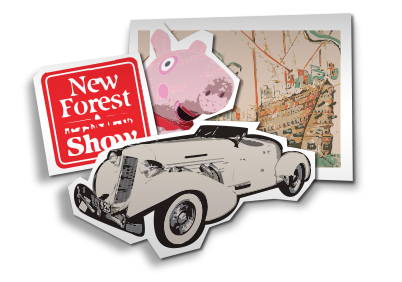 New Forest Events
If your New Forest business or organisation has a forthcoming event that you'd like to promote (free of charge), please drop us a line and we'll put it on this page.

Add Your Event
If you have a forthcoming village event that you'd like to publicise free of charge, please submit the details to our Events section.
► Promote Event
Add Your Business
Add your New Forest-based business to the New Forest Online Business Directory - free of charge.
► Add My Business
Forthcoming New Forest Events
The forthcoming New Forest events below are listed in starting date order - the closer they are to beginning, the higher up the page they appear. Once the events have finished, they automatically disappear from the page. If you have a New Forest event that you would like to publicise, please submit it here. Alternatively, you can e-mail it to us.
▼ Date
▼ Event
Sunday
24/05/2015
to Monday
25/05/2015
Ref. 2112
Truckmania - Beaulieu
Stand amongst the giants of motoring and enjoy a day of all things trucking! Marvel at the Monster Truck displays, test your strength in the 'Tug a Truck' challenge, try out your driving skills in the Mini Truck arena, and much more... with activities for the whole family, make this a bank holiday weekend to remember! Your ticket for Truckmania also includes entry to the Beaulieu attraction, including Palace House, Beaulieu Abbey, World of Top Gear and the world-famous National Motor Museum.
See website for pricing
10am - 6pm
Location: Beaulieu National Motor Museum, Beaulieu, Brockenhurst SO42 7ZN
Beaulieu National Motor Museum
Tel: 01590 612888
events@beaulieu.co.uk
www.beaulieu.co.uk/beaulieu-events/truckmania
Monday
25/05/2015
to Friday
29/05/2015
Ref. 2123
Great Fun Farm Forage - Lyndhurst
Find farming implements hidden around the Farm using clues on our fun quiz sheet. All children who take part will receive a little gift at the end of the forage for all that super snooping. Great for nosy parkers! No extra charge. Our full schedule of hands-on farming activities will also run daily throughout the half-term holiday.
Usual admissions apply
10:00 to 17:00
Longdown Activity Farm
Tel: 023 8029 2837
enquiries@longdownfarm.co.uk
www.longdownfarm.co.uk
Saturday
30/05/2015
to Saturday
06/06/2015
Ref. 2102
Lymington Arts Group - Lymington
Annual Exhibition
9.00am - 7.00pm (10.00am - 4.00pm on Sunday)
Location: The Masonic Hall, 10 High Street, SO419AA
www.lymingtonartsgroup.org
Saturday
30/05/2015
to Sunday
31/05/2015
Ref. 2124
Longdown Farm Vintage Rally - Lyndhurst
The two day event, organised by the New Forest Group of the National Vintage Tractor and Engine Club, will feature a static display of vintage tractor beauties from bygone years. The tractors will be parading and taking part in events as well as providing rides throughout the day (ground conditions permitting). There will also be period working machinery such as a working sawmill along with other working country exhibits. Don't miss the Victorian country kitchen featuring costumed Victorian workers and cooks showing how we used to produce and make our food. Plenty for the children: tractor rides all day and the children v tractor tug of war! Pony rides* and face-painting* too. (Tractor events – ground conditions permitting.) No extra charges for the event. Our usual schedule of hands-on activities will run daily.
Usual admissions apply
10:00 to 16:00
Location: Longdown Activity Farm
Longdown Activity Farm
Tel: 023 8029 2837
enquiries@longdownfarm.co.uk
www.longdownfarm.co.uk
Sunday
07/06/2015

Ref. 2122
Sunday
07/06/2015

Ref. 2115
Friday
19/06/2015
to Saturday
20/06/2015
Ref. 2105
Sunday
21/06/2015

Ref. 2100
Fathers Day Discount - Beaulieu
This Fathers Day dads go HALF PRICE on any activity! We offer great activities such as archery, canoeing, kayaking and cycle hire, all in the heart of the beautiful New Forest. So treat your father to a brilliant time with this one day only offer. To book these activities and our half price deal please call our office on 01590 612377 and our team will be happy to book you in. *Activities subject to availability *50% discount only applies when booking via phone

New Forest Activities
Tel: 01590 612377
info@newforestactivities.co.uk
http://www.newforestactivities.co.uk/
Sunday
06/09/2015

Ref. 2117
Smoked and Uncut Festival - Brockenhurst
Spend a Sunday afternoon in the sunshine with live music being performed by: Andy Burrows, Movie and Polly Money. All at THE PIG in the New Forest.
£30 General Admission, £100 Family Admission.
12 - 6pm
Location: THE PIG
THE PIG
Tel: 01761 490490
http://www.smokedanduncut.com/
Sunday
13/09/2015

Ref. 2083
New Forest bike ride - Brockenhurst
A beautiful ride through the New Forest, helping to raise money for Orchid – Fighting Male Cancer. There's a choice of four routes for all ages and abilities, all starting and finishing in Brockenhurst. Quiet roads and gentle hills make the shorter rides ideal for families.
see website
8am - 5pm
Location: Brockenhurst Sixth Form College
http://www.bike-events.co.uk/newforest
Saturday
03/10/2015
to Sunday
04/10/2015
Ref. 2121
Cranborne Chase Woodfair - Fordingbridge
The Cranborne Chase Woodfair is the largest regional woodfair - a showcase celebrating woodlands and traditional rural life. Come and taste local food, have a go at a craft or activity you've never tried, learn something utterly unexpected and wonderful - this year's woodfair is even more inclusive and provides even more opportunities for people of all ages and backgrounds to have a go at something new. We've everything from mobile sawmills to bronze age woodworking, falconry to furniture makers, timber frames to wood turning. Discover a treasure trove of local products from food and furniture to toys and games. If you're looking for a fantastic day out for all the family, then this is it.
Adult £10, Child £2, Family £22 (discounts for advance tickets)
10:00am - 5:00pm
Location: Breamore House Nr. Fordingbridge Hampshire SP6 2DF
David Blake
Tel: 01749 814088
woodfair@bradsons.co.uk
www.woodfair.org.uk
▲ Date
▲ Event