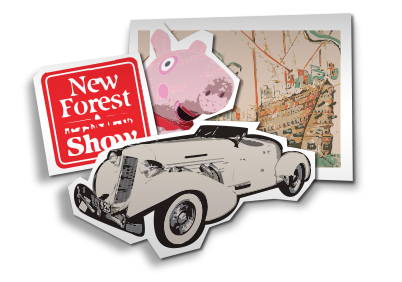 New Forest Events
If your New Forest business or organisation has a forthcoming event that you'd like to promote (free of charge), please drop us a line and we'll put it on this page.

Add Your Event
If you have a forthcoming village event that you'd like to publicise free of charge, please submit the details to our Events section.
► Promote Event
Add Your Business
Add your New Forest-based business to the New Forest Online Business Directory - free of charge.
► Add My Business
Forthcoming New Forest Events
The forthcoming New Forest events below are listed in starting date order - the closer they are to beginning, the higher up the page they appear. Once the events have finished, they automatically disappear from the page. If you have a New Forest event that you would like to publicise, please submit it here. Alternatively, you can e-mail it to us.
▼ Date
▼ Event
Saturday
10/05/2014
to Sunday
26/10/2014
Ref. 2026
Summer Program of Walks - Lymington
Walks around the historic town of Lymington and Milford on Sea between May and September
Donations towards running costs
Sundays @ 11am & Wednesdays @ 7pm
Location: Please visit website for further details
Lymington Town Tours
Tel: 01590 644438
info@lymington-town-tours.co.uk
www.lymington-town-tours.co.uk
Saturday
21/06/2014
to Saturday
20/12/2014
Ref. 2047
ART, DESIGN, ANTIQUES, and VINTAGE STREET MARKET - New Milton
A street market of stalls with an eclectic mix of art and design direct from the artists and makers, together with stalls selling textiles, vintage, retro and shabby chic. An interesting day out where you can view original art at affordable prices, and browse the antiques for a bargain. The market is in Station Road New Milton on every third Saturday of each month from June to December.
The market starts at 10.00am and ends at 4.00pm
Location: The market is set up in Station Road New Milton on the 3rd Saturday of each month
Mandy
Tel: 07585 123 583
art&antiques@smtmanagementltd.co.uk
www.smtmanagementltd.co.uk
Saturday
06/09/2014
to Sunday
07/09/2014
Ref. 2020
International Autojumble - Beaulieu
Beaulieu's most famous motoring event, the International Autojumble is the biggest outdoor sale of motoring items this side of the Atlantic takes place on 6th & 7th September 2014. With over 2000 stands, groaning with all kinds of vintage and classic motoring ephemera - motoring parts, accessories, automobilia, literature, tools and clothing, there is something for everyone and lots of bargains to be had. This iconic event enjoys the reputation that; "if you can't find it at Beaulieu, it doesn't' exist!"
Please see website
10am - 5pm
Location: Beaulieu, SO42 7ZN
Beaulieu
Tel: 01590 612888
events@beaulieu.co.uk
www.beaulieuautojumble.co.uk
Saturday
06/09/2014
to Sunday
07/09/2014
Ref. 2059
Salisbury Craft & Heritage Fayre - A GREAT FAMILY DAY OUT! - Other
For Adults • 85 of the most original UK designers and makers will be showcasing their crafts and selling their work on the West Lawn of Salisbury Cathedral, along with some of Salisbury's most promising new artists, the Salisbury Teenage Craft Market, Wiltshire College and Totton College PLUS.. • Craft & Heritage Workshops, Tours & Talks around the Close and City Centre PLUS.. • Cream Teas on the West Lawn! For Children (and Adults) • Demonstrations/Hands On Workshops on weaving, thatching, stone-carving, blacksmithing, wood turning and more PLUS.. • Art & Craft Trails around the City Centre PLUS.. • Medieval Games. INCLUDED are all Craft & Heritage Tours, Talks & Trails!
Family £12, Adults £5, 12-18 Year Olds/Students £2, Under 12s FREE.
10am to 5pm
Location: Salisbury Cathedral Close, Salisbury, SP1 2EJ
srccg@salisburycraftfayre.org
http://salisburycraftfayre.org/
Sunday
14/09/2014

Ref. 2031
New Forest charity bike ride - Brockenhurst
A beautiful ride through the New Forest, helping to raise money for charity. There's a choice of four routes for all ages and abilities, all starting and finishing in Brockenhurst. Quiet roads and gentle hills make the shorter rides ideal for families.
Advanced entry fee £17
8.00am
Location: Brockenhurst Sixth Form College, Lyndhurst Road, Brockenhurst SO42 7ZE
www.bike-events.co.uk/newforest
Tuesday
16/09/2014

Ref. 2049
B2B Multichannel Europe 2014 - Lymington
B2B Multichannel Europe 2014 B2B Multichannel Europe is Europe's premier B2B Marketing conference for B2B Marketing and e-commerce excellence taking place in London from September 16-18, 2014 . Targeting senior level B2B marketing professionals across a variety of different sectors, global enterprises and SMBs to help mould the future trends of the B2B market and achieve business intelligence. The conference focuses on winning strategies and technology innovations to help drive B2B marketing intelligence. First class networking opportunities and real life industry case studies provide an interactive and data-rich event to help further yourself in this fast-moving market. With over 40 industry experts contributing lessons learned, proven strategies and new procurement methodologies to cope with the full range of challenges you face on a daily basis this is the only pan-industry B2B Marketing event you need to attend this year. Our knowledge portal uncovers your B2B Marketing challenges, such as Lead Generation and Content Creation, through exclusive Q&As and interviews with industry leading experts Visit Website
0.0

Location: United Kingdom
Susie Benaim
Tel: 2073689489
wbremailwbr@gmail.com
b2bmultichanneleu.wbresearch.com
Saturday
25/10/2014

Ref. 2021
Fireworks Spectacular - Beaulieu
Be wowed by the explosive and dynamic fireworks display, set to a "Rock Legends" theme. Have fun on the Beaulieu Rides & Drives and Old-Time Fairground, all at good value extra charges. Hot food and drinks are available both inside and out, as well as roast chestnuts and candyfloss. Everyone is invited to get in the spirit of the night...in fancy dress...with prizes going to the best dressed.
Please see website
3pm - 9pm
Location: Beaulieu, SO42 7ZN
Beaulieu
Tel: 01590 612888
events@beaulieu.co.uk
www.beaulieufireworks.co.uk
Friday
31/10/2014

Ref. 2042
It's Frightfully Fun at the Farm - Lyndhurst
A day of spooky stuff to see and do, including pumpkin carving (small extra charge) and paper bat making. Every child that arrives at the Farm in spooky fancy dress will be allowed entry at a special concessionary rate of £4.50 each (cannot be used in conjunction with any other offer). Meet and hold a barn owl and see lots of creeeepy creatures like rats, snakes, cockroaches and huge snails, courtesy of our friends from The Creature Teachers.
Usual admissions apply
10:00 - 17:00
Location: Longdown Activity Farm
Longdown Activity Farm
Tel: 023 8029 2837
enquiries@longdownfarm.co.uk
www.longdownfarm.co.uk
Sunday
02/11/2014

Ref. 2034
variety remembrance 2014 - Ringwood
Salute to world war one, and world war two and salute to the bravery of the people's of Malta.special songs and readings. Two shows in one...VARIET SHOW AND REMEMBRANCE CONCERT. guest celebrity MICHAEL MEDWIN. Amazing Grace, pie jesu, the Lord's prayer and battle of Britain speecl
tba
2-6pm
Location: the hub theatre, VERWOOD
warren brown
Tel: 0774 767 2100
warrenbrown27@hotmail.com
Tuesday
02/12/2014
to Thursday
04/12/2014
Ref. 2055
Future iGaming - Sway
Future iGaming provides a fresh look at the future of gambling. This exclusive meeting provides a practical, strategic and content-driven event offering you the opportunity to discuss innovations in the iGaming industry,gambling marketing and factors influencing customer betting behaviour. Taking place from 2nd December – 4th December 2014 in London, Future iGaming is the only iGaming Conference that provides you with real take home messages, practical industry insight and a platform to have real peer-to-peer discussions and debates to drive the industry forward. Request the draft agenda for more information on gambling industry trends: Visit: http://igaming.wbresearch.com/ Contact us at: igaming@wbr.co.uk
Free

Location: America Square Conference Centre, 17 Crosswall, London EC3N 2LB UK
wbremailwbr
Tel: 20 7368 9465
igaming@wbr.co.uk
http://igaming.wbresearch.com/
▲ Date
▲ Event