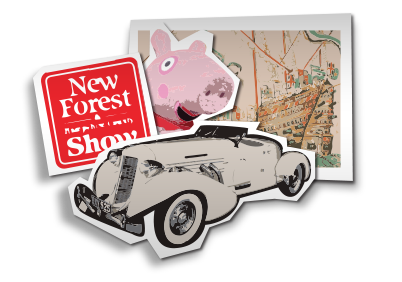 New Forest Events
If your New Forest business or organisation has a forthcoming event that you'd like to promote (free of charge), please drop us a line and we'll put it on this page.

Add Your Event
If you have a forthcoming village event that you'd like to publicise free of charge, please submit the details to our Events section.
► Promote Event
Add Your Business
Add your New Forest-based business to the New Forest Online Business Directory - free of charge.
► Add My Business
Forthcoming New Forest Events
The forthcoming New Forest events below are listed in starting date order - the closer they are to beginning, the higher up the page they appear. Once the events have finished, they automatically disappear from the page. If you have a New Forest event that you would like to publicise, please submit it here. Alternatively, you can e-mail it to us.
▼ Date
▼ Event
Saturday
20/10/2018
to Sunday
03/11/2019
Ref. 2555
Chitty Chitty Bang Bang 50 years - Beaulieuu
Celebrate the 50th anniversary of Chitty Chitty Bang Bang with a fantasmagorical exhibition at Beaulieu!
See Beaulieu.co.uk
10am - 5pm
Location: National Motor Museum, Beaulieu, New Forest, Hampshire, United Kingdom SO42 7ZN
Beaulieu, National Motor Musuem
Tel: 01590612345
info@beaulieu.co.uk
https://www.beaulieu.co.uk/chitty/
Saturday
25/05/2019
to Sunday
26/05/2019
Ref. 2581
Longdown Vintage Farm Rally - Lyndhurst
Our friends from the New Forest Vintage Tractor and Engine Club are back with their fantastic exhibits so come on down to the Farm for a glimpse of yester-year. Lots for the children to see and do including bumpy tractor rides and the brilliant tractor v children tug o' war. Displays of vintage tractors, vintage working machinery and engines. Working demonstrations such as woodcutting on the sawmill and cooking in the Victorian country kitchen. There'll be a rural, vintage surprise around every corner! Our usual schedule of hands-on farming activities will run throughout the day.
Usual admissions apply
10:00am - 17:00pm
Location: Longdown Activity Farm S040 7EH
Liza Datlen
Tel: 023 8029 2837
publicity@longdownfarm.co.uk
www.longdownfarm.co.uk
Monday
03/06/2019

Ref. 2580
Big Quiz Night - Totton
Grab your team of up to 6 people, and join Tools for Self Reliance for a brilliant night of fun at our next Quiz night, on Monday 3 June at Colbury Memorial Hall. Doors at 7pm, quiz starts at 7:30pm. Tickets cost £10 per person and include a delicious lasagna supper (veg option available). There'll be prizes, raffle and cash bar, with soft drinks for the drivers. Booking is essential, please call 02380 869697 or buy your tickets online at https://tfsr_bigquiz.eventbrite.co.uk We look forward to seeing you there!
£10 per ticket per person
19:30 to 22:00
Location: Colbury Memorial Hall, Totton, Main Road, Totton, SO40 7EL
Tools for Self Reliance
Tel: 02380869697
julia@tfsr.org
https://tfsr_bigquiz.eventbrite.co.uk
Friday
07/06/2019
to Saturday
08/06/2019
Ref. 2582
Loverocks Festival - Ringwood
Loverocks Festival returns for its third year on Friday 7th June and promises an action-packed weekend of nostalgic cover bands, hard rock and blues. This year features some of the most authentic tributes to ACDC and Pink Floyd you'll find, as well as an exciting mixture of up-and-coming original bands. The family-friendly event, which is held at St Leonards Farm and Campsite, has become ever-popular amongst Dorset and Hampshire residents, attracting over 300 visitors at Loverocks Festival 2018. Tickets are selling fast for this years Loverocks Festival, so make sure you get yours now! Loverocks takes place on the 7th June and the 8th of June. For a full festival line up and to buy tickets, visit: https://sanctuarypromotions.co.uk/ Headline Acts: - Hells Bells – an accomplished tribute band to ACDC who tour all over Europe. - Just Floyd – Pink Floyd tribute band often described as 'the most authentic live Pink Floyd tribute' due to their impressive live show which mimics the real Pink Floyd. Other performers: SKAM, City of Thieves, Baleful Creed, Hell's Gazelles, Those Damn Crows, Western Sand, Samarkind, Ravenbreed, At the Sun, The Rocket Dolls, Jack J Hutchinson, Circus 66, Mike West.
45

Location: St Leonards Farm & Campsite
Loverocks Festival
Tel: 07900892542
info@sanctuarypromotions.co.uk
https://sanctuarypromotions.co.uk/
Monday
24/06/2019
to Tuesday
25/06/2019
Ref. 2565
Nursing Care 2019 | Nursing Conferences - Lymington
Following the success of Nursing Care Plan 2018 held at Rome, Italy, we are organizing the next event in the series Nursing Care 2019. We welcome you to attend and participate at upcoming 50th International Congress on Nursing Care from June 24-25, 2019 in Moscow, Russia, based on the theme: "Advancement in technologies to enhance & ease nursing care" Nursing 2019 mainly emphasizes on- • Nursing Care Education and Research • New Technology in Nursing Care Education • Types of Nursing Care • Surgical Nursing Care • Cardiac Nursing Care • Palliative Care • Perioperative Nursing Care • Obstetrical Nursing Care • Oncology Nursing Care • Midwifery Nursing Care • Pediatric Nursing Care • Emergency Nursing Care • Neonatal Nursing Care • Advanced Nursing Care • Nursing Diagnosis • Nursing Education • Nursing Theories • Nursing Care Management Grab your chance to attend this meeting, discussing with your colleagues, and also make your memories by visiting the world's largest city Moscow For further details, please visit: https://nursingcareplan.nursingmeetings.com/ Yours sincerely Ms. Helena Makri Program Director Nursing Care 2019 UK: Conference Series llc LTD 47 Churchfield Road, London, W3 6AY Tel: (702) 508-5200 Ext: 8044 Email: nursingcareplan@nursingspeakerexperts.org,helenamakrinc@gmail.com
499$
9:00 AM
Location: Holiday Inn Vinogradovo Dmitrovskoe shosse, ow.171 Moscow 127204, Russia
Helena Makri
Tel: +447025085200
nursingcareplan@meetingsfinder.org
http://nursingcareplan.nursingmeetings.com/
▲ Date
▲ Event