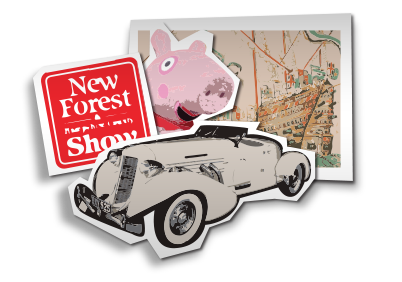 New Forest Events
Please be aware that due to the Coronavirus, events listed on this website may be cancelled without notice. We advise that you to contact the event manager via phone or email before attending any event listed on this website.

Add Your Event
If you have a forthcoming village event that you'd like to publicise free of charge, please submit the details to our Events section.
► Promote Event
Add Your Business
Add your New Forest-based business to the New Forest Online Business Directory - free of charge.
► Add My Business
Forthcoming New Forest Events
The forthcoming New Forest events below are listed in starting date order - the closer they are to beginning, the higher up the page they appear. Once the events have finished, they automatically disappear from the page. If you have a New Forest event that you would like to publicise, please submit it here. Alternatively, you can e-mail it to us.
▼ Date
▼ Event
Saturday
11/09/2021
to Saturday
08/01/2022
Ref. 2721
Unsettling Landsacpes: The Art of the Eerie - Lymington
Have you ever felt the hairs on your neck stand up? Are you familiar with the expression 'someone walked across my grave' or get the feeling that someone is looking at you? The new exhibition at St Barbe, Unsettled Landscapes: The Art of Eerie, looks beyond the stereotypical image of the British countryside from the 20th and 21st centuries. It is an unquiet contrast to the pastoral tradition, imagery that 'trips, bites and troubles.' Unique to St Barbe, this exhibition is co-curated by celebrated author Robert Macfarlane, who explains eerie as the 'form of fear which is felt first as unease then as dread, and it tends to be incited by glimpses and tremors rather than outright attack. Horror specialises in confrontation and aggression; the eerie in intimation and intimidation.' The artwork is carefully curated to create the eerie atmosphere and is grouped around four overlapping themes: Ancient Landscapes — features that are inexplicable and mysterious that connect us to the unknown distant past; Unquiet Nature — natural forms used to unsettling effect, such as trees, lonely expanses of heath and the borderlands where different worlds meet; Absence/Presence — how the inclusion or absence of figures and objects invoke the eerie through uncertainty and suggestion; Atmospheric Effect — the influence of weather, season, light and time of day on our responses to landscape. Artists represented include Paul Nash, Graham Sutherland, John Piper, Monica Poole, Henry Moore, Ithell Colquhoun, Edward Burra, George Shaw, Ingrid Pollard, Laurence Edwards, Blaze Cyan and Annie Ovenden. Also featured are illustrations for the ghost stories of M R James and eerie artwork from the Ghost Box record label Come and see for yourself – art doesn't always conform to the 'chocolate box' tradition, this exhibition is guaranteed to make you think!
10am-4pm
Location: St Barbe musem and Art Gallery
Michelle Kirwan
Tel: 01590 676969
Marketing@stbarbe-museum.org.uk
https://www.stbarbe-museum.org.uk/
Saturday
25/09/2021
to Sunday
26/09/2021
Ref. 2722
Saturday
02/10/2021

Ref. 2718
Tool & haberdashery sale - Totton
Don't miss Tools for Self Reliance's next outside tool sale at the Netley Marsh workshops on Saturday 2 October, 10am-12 noon. Garden, hand, power tools, haberdashery, fabric and sewing machines for sale – all items that aren't suitable to send to our projects. Grab a bargain and support our fundraising which supports tools to reach trainees when they finish their 12 month training learning a trade on one of our projects.
Free
10:00 - 12noon
Location: Tools for Self Reliance, SO40 7GY
Tools for Self Reliance
Tel: 02380869697
info@tfsr.org
www.tfsr.org
Saturday
15/01/2022
to Saturday
26/02/2022
Ref. 2723
The 62 Group of Textile Artists - Lymington
Exhibiting in Lymington for the first time this highly regarded group of Textile Artists work explores the working relationship that artists have with the world around them. It includes a special project by Emily Jo Gibbs, 'The Boat Builders' starring apprentices working at Berthon Boat Company.
General Admission Charge
10am-4pm
Location: St Barbe musem and Art Gallery
Michelle Kirwan
Tel: 01590 676969
Michelle.Kirwan@stbarbe-musem.org.uk
https://www.stbarbe-museum.org.uk/
▲ Date
▲ Event