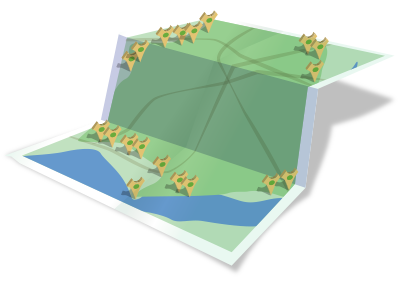 Burley
Burley is a chocolate box village in the western heart of the New Forest. There are some beautiful walks around the village and plenty of souvenir shops (and pubs) to keep everyone happy!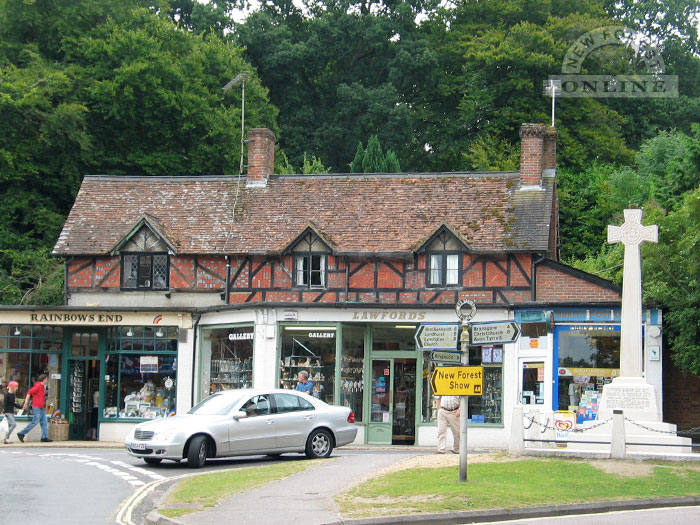 Three Burley Curiosities
Uncle Albert
Thoroughly unassuming and all-round nice chap, the late Harry "Buster" Merryfield (famous as Uncle Albert in Only Fools and Horses), could be seen in his latter years chatting to passers-by in Burley whilst personally selling them his signed autobiography (During the War and Other Encounters). We bought one. Very proud.

A Dragon with Strong Teeth
Burley is notable in English folklore for being the location of a dragon's lair at Burley Beacon. Apparently the creature "flew" every morning to Bisterne, about 3 miles west of Burley, where it would be supplied with milk. It's possible that it did exist, but that it may have been a wild boar.

Witch?
Burley's self-styled witch during the late 1950s was Sybil Leek. She could be seen walking around Burley with her pet jackdaw on her shoulder (before she moved to America). Plenty of witch-related gifts and ornaments can naturally be found in the gift shops...

About Burley
Set deep in the Forest to the west of Brockenhurst, this village is extremely popular with a wealth of tea rooms, gift shops, art galleries and a Pick Your Own Farm. Burley features everything you'd expect from a traditional, old New Forest village.
When in Burley don't be surprised to see ponies and cattle roaming freely around the village; picturesque thatched cottages tucked away in unexpected places help to conjure up how life was in the past. Burley has remained (relatively) untouched by time, steeped in old customs and history, enabling visitors to unwind and enjoy its tranquil simplicity.
Outside the village miles of open heathland provide good walking, cycling and riding. Burley was a famous centre for smuggling and is renowned for its association with witches, both ancient and modern.
Things to Do and See in Burley
Explore the country lanes on a Wagonette Ride. These start running from Easter for the summer season. There are horse riding stables in the village at Burley Manor Hotel and a Burley bike hire shop for those who prefer to ride.
Whilst in Burley, try a cream tea in one of the many tea rooms and restaurants and explore the gift shops or watch cricket at the village cricket pitch alongside the village school. There are endless forest walks from the village and you can admire the donkeys, ponies and cows strolling through the village streets.
As Burley is surrounded by trees, it is interesting to find some of these trees have been given special names:

The Twelve Apostles (very ancient oaks at Burley lodge, some of which are still standing).
The Naked Man called the Wilverley Oak in 1759 was used for hanging highwaymen and smugglers but is now a dead trunk stripped of all bark.
Miracle Trees Certain trees near the old Vicarage are so named because they break in to leaf at Christmas time.

There are many interesting enclosures around the village where fine examples of pine, fir and spruce can be found.
A Little Burley History
Burley's earliest records are of the bronze age. Definite proof has been found at Castle Hill; covering about 5 acres is a Bronze or Iron age camp which stands on a rounded hill 308 feet above sea level. Discovered in 1926 was a very fine hoard of twelve palstave axes - these were found in a small gravel pit only 18" below the surface. These are now in the British Museum and are dated at 1200BC.
There is also evidence of Saxon occupation as the very name Burley is composed of two Saxon words 'burgh' which means fortified palace, connected with the verb 'boergan' which means to protect, and then 'leah' which means an open meadow or clearing in a wood. Burley is also mentioned in the Doomsday book.
Burley Manor A.D 1251 - 1936
Records show that by the beginning of the 13th Century the family of de Burley was firmly established here. Richard de Burley we know held the estate of King Edward 1 who gave the village of Burley and Manor of Lyndhurst as Dowry to his second wife Margaret, sister of Philip of France. There were many more occupants. then in 1852 the Manor passed in to the possession of Colonel Esdaile who pulled down the old house and built the one standing at present. Considerable enlargements have been made since that date and various pieces of land sold. The Manor is now an attractive 3-star hotel.
Burley Chapel
This calvanistic chapel was erected in 1789 for a total of £4. No pews were to be allowed inside the chapel nor at any time was it to be used as a school. As far as we know, there was no place of worship in the village previous to this date. Thomas Eyre was the instigator of the idea and donations for the costs came from other small villages in the area.
Burley Church
The Church of St. John the Baptist was built in 1839 and Burley was constituted an ecclesiastical Parish, so no longer was it necessary to tramp the long miles to Bransgore or Ringwood to be christened or buried.
Burley has a long connection with witches and during the late 1950's, Sybil Leek, a self-confessed white witch, lived in this village.White witches spread goodwill, live close to nature, practice healing and astrology. Many of the gift shops now sell witch-related gifts and ornaments.